Elevate Human Behavior Research with Multi-Stream Synchronized Recording
Step into a new era of human behavior research with Beats VideoLAB, the groundbreaking cloud application designed exclusively for researchers and scientists in controlled lab environments.
Multi-Stream Synchronization Redefined. Unlock unparalleled insights by capturing up to 4 video streams in perfect synchronisation. With Beats VideoLAB, you can effortlessly record, synchronize, and analyze multiple perspectives of human behavior, all from the convenience of your web browser.
Seamless Multi-Perspective Analysis. Experience the power of simultaneous observation through synchronized streams. Beats VideoLAB empowers researchers to unravel complex interactions by viewing multiple angles in real time, enhancing the depth and accuracy of your insights. Record in the Beats VideoLAB application and science code using Beats Science Coder.
Uncover Nuances with Precision. Beats VideoLAB ensures you don't miss a single detail. Effortlessly record and review synchronized streams, enabling you to decode the subtleties of human behavior and enrich your analysis with science-coded annotations.
---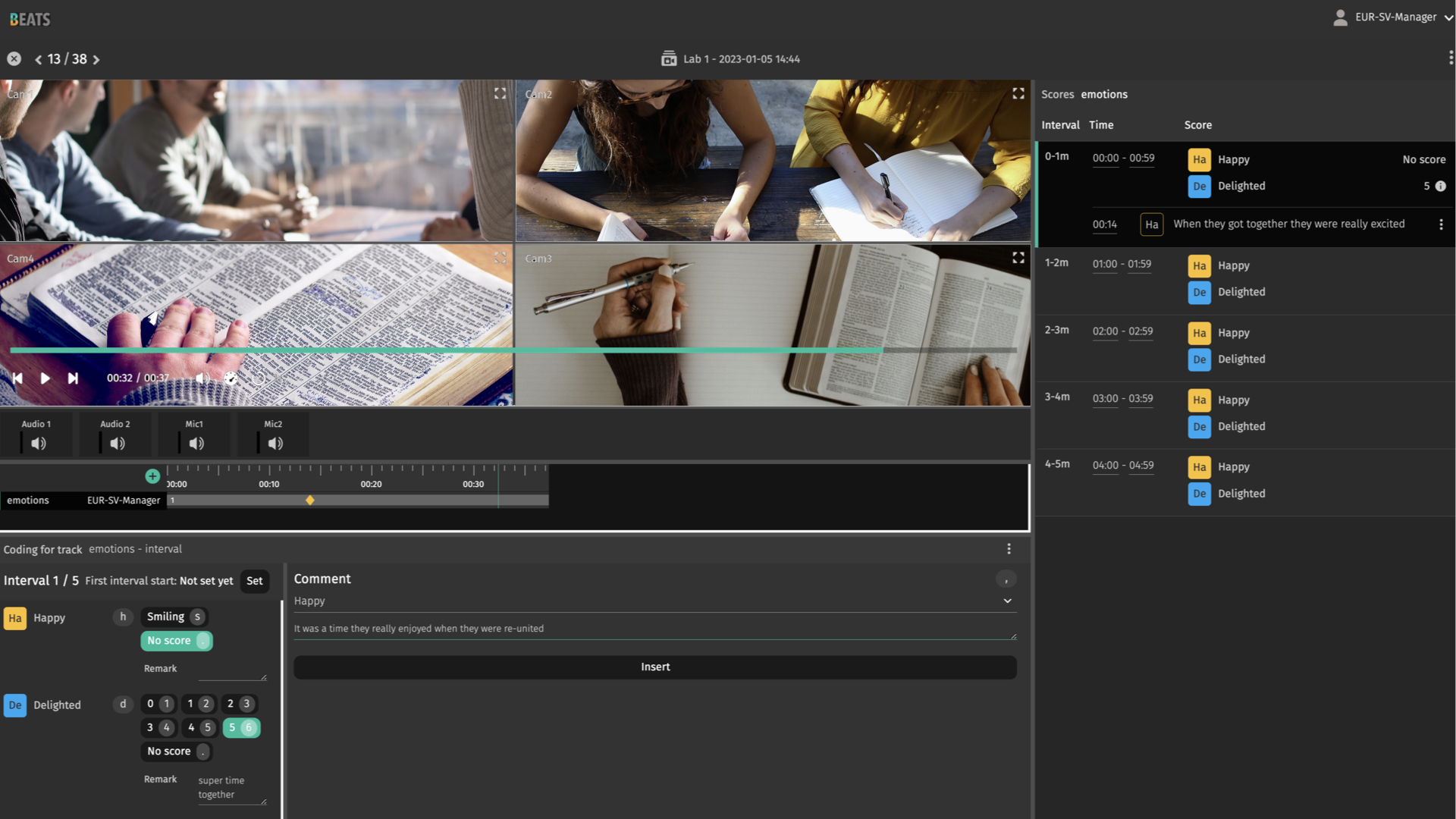 ---
Key Features for Researchers:
Multi-Stream Recording: Record up to 4 synchronized video streams with audio, capturing a comprehensive view of your research subject.
Real-Time Synchronization: View all streams, perfectly synchronized, allowing for immediate and accurate comparisons.
Cloud Collaboration: Invite fellow researchers to collaborate remotely, fostering collective insights and knowledge sharing.
Precise Annotation: Science-code your observations within the application, creating a detailed database for robust analysis.
Secure Cloud Storage: Safeguard your valuable research data in a secure cloud environment, accessible anywhere, anytime.
Elevate Your Research Discoveries. From psychology and sociology to neuroscience and beyond, Beats VideoLAB empowers researchers across diverse fields to uncover hidden patterns and refine their scientific inquiries.
Unlock Beats VideoLAB Today. Join the league of visionary scientists who are reshaping research methodologies with Beats VideoLAB. Revolutionize your approach to human behavior observation and analysis, and advance your research to new horizons.
---