"Digitisation has already enriched the teaching material and new teaching methods are being used. While developments in learning analytics and digital learning methods will not be able to restore the master-trainee relationship, they do facilitate personalised education, which takes greater account of the individual student"
---
Introducing the Future of Academic Video Creation: Elevate Your Lectures with Our Cloud-Based Application!
Are you a university professor or teacher looking to engage your students like never before? Say goodbye to traditional lecture methods and welcome the power of innovation into your classroom with our cutting-edge cloud application!
Seamless Video Creation: Transform your knowledge into captivating lecture clips effortlessly. Our user-friendly interface guides you through each step, from uploading your presentation, add your text and record your video as a professional, making you the director of your educational content.
---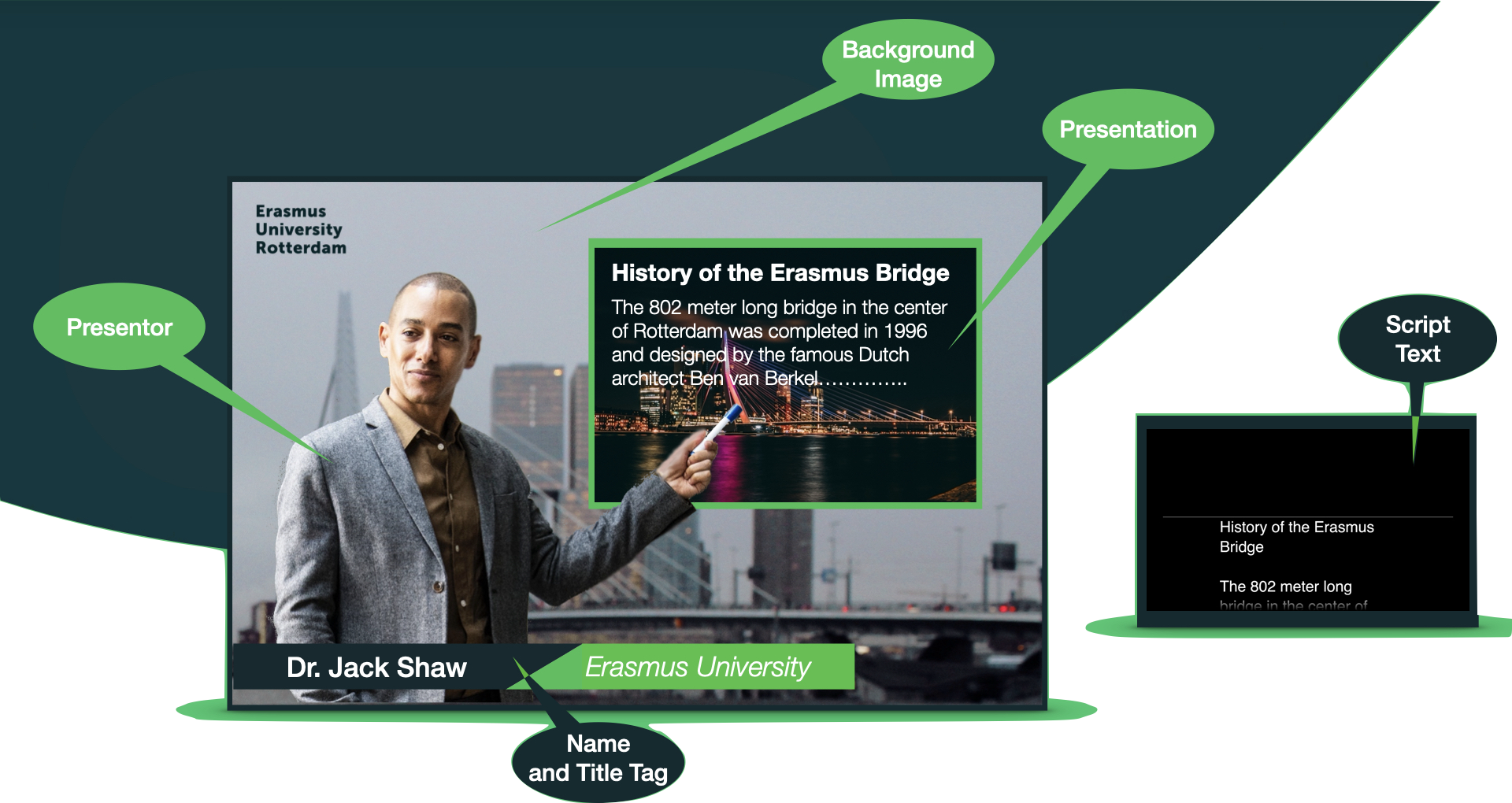 The elements you'll need in a lecture video clip
---
After preparing the video in Beats, go to the DIY Video Recording Booth. Imagine having a fully-equipped recording booth at your fingertips. Beats DIY cloud application turns the production of videos into a simple proces, prepare, record in the DIY booth and simply hit record and let your expertise shine.
Elevate Your Brand: Stand out in the academic world with high-quality, visually appealing videos. Whether you're teaching advanced calculus or world history, your lectures will be memorable and shareable.
Cloud-Powered Convenience: Access your videos from anywhere, anytime. Our cloud-based platform ensures that your content is secure and accessible from everywhere.
Innovation at Your Fingertips: Stay ahead of the curve by embracing the future of education. Join the ranks of forward-thinking educators who are revolutionizing the way knowledge is shared, using video.
Privacy and Security: We understand the importance of safeguarding your content. Our state-of-the-art security features ensure that your videos are only seen by those you intend.
Empower Your Peers: Share your video creation prowess with colleagues and empower them to enhance their teaching methods. Shape the future of education!
Experience the thrill of creating captivating lecture clips like never before. Join the ranks of pioneering educators who are transforming education, one video at a time. Elevate your lectures with the Beats DIY cloud application today!
---
---

---
Beats cooperates with WebClip2Go. They can do the hardware installation for you as a turn-key project. They install camera's, autocue, lights, microphones, all connected to a automation system. The teacher will enter the booth after preparing for the video in Beats, hit's the button and starts presenting after a countdown. That's it!