Beats Story Management for local stations
Beats is a story management system that run's in the web browser (Google Chrome, Mozilla FireFox, Apple Safari, Microsoft Edge) and is built for radio- and television stations and for other communication professionals who need structure in their information management plus an efficient way of managing multimedia stories. The system is built for use by non-media trained non-technical staff, it's very easy to learn to work with Beats.
Beats has all the features that is required in a modern information environment and, because of the use of web technology, is very flexible. Not only can new features be implemented easily, the customer doesn't have to need local equipment other than a Laptop or PC with an internet connection and a web browser. No need for local IT. For larger stations though, it is possible to create a private cloud, or even a hybrid system with a combination of local and cloud storage for stories, media and archives.
---
---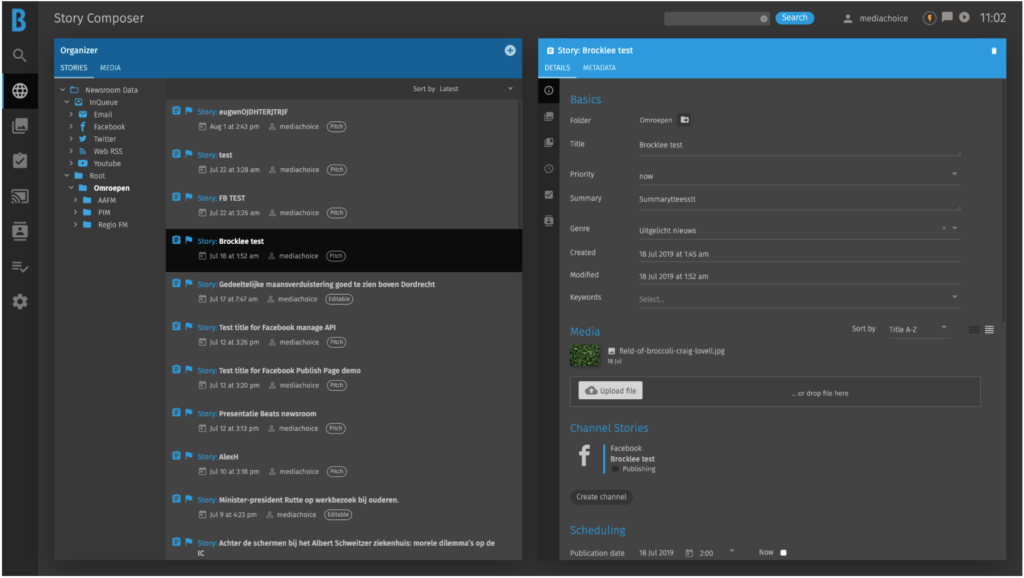 ---
In Beats Newsroom a story is a package with the story text as the primary element and several components as secondary parts of the story. A story can contain text, with several audio- or video clips, documents like PDF, PPTX and DOCX, graphics, subtitling etc… all in one media package.
Beats will manage story creation, editing, transcoding, automated media quality checks (QC) and automated publishing to several media channels, like radio playout, websites, mobile news apps (including news alerts) and social media channels.
---
To be able to create stories, the journalist needs incoming information about news occurrences and reports. Beats can ingest many information feeds such as:
Social media
RSS
Newswires (like Reuter, AP)
Email (Pop3 and imap)
(s) FTP
Watch folders for audio and video files
---
Create and publish stories
The journalist can check the incoming stories in the Beats system. Seeing something in the in-queue that could be interesting for publication or expansion, they promote this story from a read-only story into an editable story. Then editing the text, adding media components like quotes for radio and video clips, and publishing the story to one or more channels. Beats will take care of transcoding the media, so the the media will be published in the right format to the respective channel.
Your media can be stored in Beats' media bin. You can store audio, video, documents (like pdf) and other files. In the system there's a integrated audio editor for audio editing and audio- and video players.
---
Other Beats Story Management features
REST API for connecting to other systems
Fully cloud, private cloud or hybrid models with several storage areas
Store in Amazon, Azure, DropBox etc..
Publish to ALL channels in ONE system
News planning (when to publish what to which channel)
Ingest content from mobile devices
Video and audio transcoding included
Sent media via email, SFTP, FTP LAN watch folders to Beats (also from mobile devices)
Task monitoring transcoding
Reporting / Metrics
Collaboration